Forever Move : Your body is created for movement, and in order to function normally and perform best, the body must have good conditions. With Forever Move you have the opportunity to be physically active every day.
The dietary supplement for those who would like to be physically active and in comfortable, good movement throughout their lives  
Whether you want to move to practice your sport at the elite level, or train to keep fit for health reasons – or exercise most for fun. Or just want to move around freely.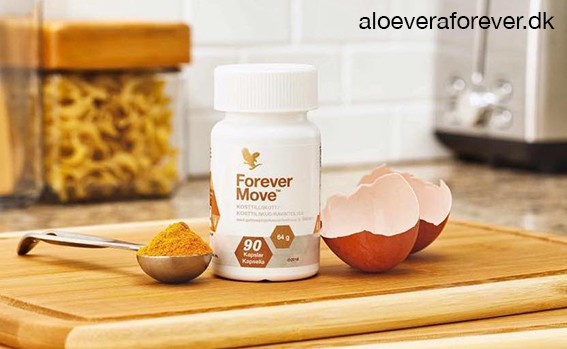 Active and moving  
In order to have a body and a movement device in good physical balance, exercise and diet are important elements. But even if one strives to live healthy, eating a body in optimal physical balance can be quite difficult and cumbersome via the regular diet we know it today.
BENEFITS OF FOREVER MOVE
Support proper and effective joint comfort

Support joint flexibility

Promote healthy cartilage

Provide natural ingredients needed in the cartilage

Support Healthy range of motion

Decrease pain and stiffness in joints

Vital tool for all joint pains and fractures

Protect joint from wearing and tearing

Provide natural and solid collagen and synovial fluid to the joints

Provide 100% natural and best for the aged and young joints
Sports-related stress, physical hard or monotonous work with the same pattern of movement day in and day out, and the course of life in general, also leave its mark on the body. Thus, Forever Move is the diet supplement specifically designed for people with an active lifestyle who want to make the most of their day of exercise every single day.
Supplement with Forever's Omega-3 capsules Forever Arctic Sea and with Forever Aloe Vera drinks in your daily dietary supplement program, you get the optimal benefit.
New ingredients in supplements: NEM® eggshell membrane and BioCurc™ turmeric extract  
Forever Move combines two innovative, high-quality ingredients that Forever Living Products has patented: NEM® eggshell membrane and BioCurc™ turmeric extract.
Turmeric, also known as "Indian saffron", has been used for thousands of years and is more popular than ever. Turmeric includes curcuminoids. It is polyphenols and it is these that give the spice the strong yellow color. Curcumin is the most common curcuminoid in turmeric.
The new ingredient eggshell membrane naturally consists of a variety of substances including collagen and hyaluronic acid. NEM® eggshell membrane has been carefully examined and checked to provide a safe product and a very high quality.  
Quickly noticeable effect
Forever Move was launched by Forever Living in April 2017 in the US, and as early as June 2017 we were able to introduce the product in Denmark.
After quite a few weeks, the feedback from happy customers started pouring in. This is because you quickly feel the effect of the product. For many, it's a matter of weeks.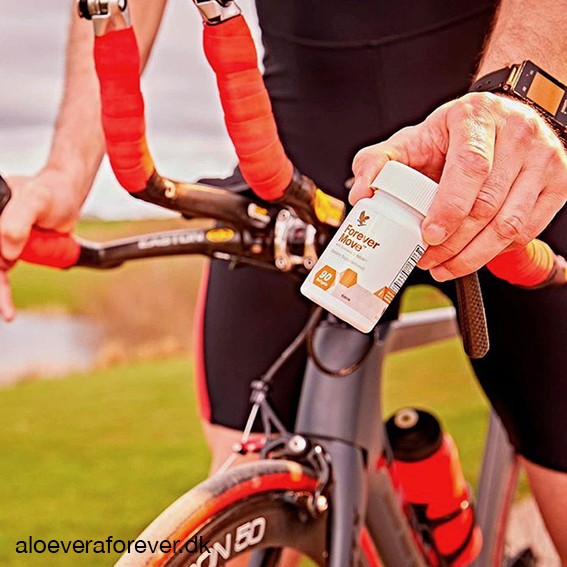 Move healthy  
In my childhood we had a brightly colored Henry Heerup poster hanging on the wall with the text "Move healthy". I looked at it every day for several years as it hung at the end of the hallway where my room lay. That's why I remember the words so well and can clearly see the picture for me.
I really liked the poster, but at the time I didn't put so much into the ambiguous words, just that in the foreground was a happy, running person with a big red heart, and in the background sat a sad, sunken man on a bench .
Today – approx. 40 years later – I probably understand the message better. Where is it important that we keep going? And in order to do that, it is important that we take good care of ourselves with healthy diets and good supplements.
Trendy ingredients for an active life
Innovative dietary supplement with NEM® eggshell membrane and BioCurc ™ turmeric extract, developed especially for you with an active lifestyle.
To whom?
Forever Move ™ is suitable for all adults who like to move to everyday life, no matter what level. It is a product for you who are interested in diet and exercise and who would like to try something new.
We are created to move
You deserve to feel good, to feel that your body is in balance. A body in balance is based on several factors, where diet and exercise are natural, important elements. Forever Move ™ is an innovative dietary supplement, specially developed for you with an active lifestyle. Here, two modern, high-quality ingredients are combined: NEM® eggshell membrane and BioCurc ™ turmeric extract.
With turmeric
Turmeric, also called "Indian saffron", has been used for thousands of years. Today it has been rediscovered and is a very popular ingredient in both supplements and cooking. Turmeric contains curcuminoids and polyphenols, which, among other things, give the spice its strong color. The most common is called curcumin. Polyphenols are a type of chemical found in plants.
And NEM® eggshell membrane
As for eggs, it's not just the yolk and the white that count. The modern, patented ingredient NEM® eggshell membrane naturally consists of a number of different substances, including collagen and hyaluronic acid. NEM® eggshell membrane is produced in such a way that the natural constituents are preserved. The ingredient has been carefully studied and controlled to provide a safe product that maintains a very high quality.
Nutritional content per recommended daily dose (3 capsules):
| | | |
| --- | --- | --- |
| Nutrient | 3 caps. | % RI * |
| Eggshell membrane | 500 mg |  – |
| Turmeric extract | 500 mg |  – |
|      of which curcuminoids | 60 mg |  – |
* RI = Daily Reference Intake 
Net weight: 64 g
Recommended daily dose: 3 capsules.
Store dry and not too hot. Best before the end of: See bottom.
This product is a dietary supplement. The recommended daily dose should not be exceeded. Dietary supplements cannot replace a varied diet and a healthy lifestyle. Keep out of the reach of children. Should only be used by pregnant women or children under 1 year of age by appointment with a doctor or nurse.
If you are pregnant, breast-feeding, suffering from an illness or are being treated with medicines (for example blood thinners) you should always ask your doctor for advice before using the products.
Turmeric extract ( Curcuma longa ) [emulsifier (polyoxyethylene sorbitan monolaurate), curcuminoids, antioxidant (DL-alpha-tocopherol)], egg escalating membrane powder, soybean oil, gelatin ( fish ), humectant (glycerol extract) (C, carob extract ) C , dye (sugar color; the ammonia sulphite process). 
Allergens: see bold .
Please note that the contents can be changed and that it is always the information on the packaging that applies.
Forever Move is for people of all ages for whom freedom of movement is important.