A staggering number of people have some form of liver damage – many of whom have no idea they are affected!
Unfortunately, liver disease that is not diagnosed and addressed can have serious – or even fatal consequences.
There are rarely early symptoms of liver disease. It doesn't exhibit obvious symptoms until the illness has progressed to a serious stage.
Thus, being alerted to these 16 signs of liver damage can prompt a physician screening and guide you towards taking better care of this precious organ.
Liver Cell Damage
Experts believe that an estimated 10 to 30 percent of Americans have one of over 100 types of liver disease. A majority of these individuals have yet to realize their liver is in danger, because they may not be knowledgeable about the signs of liver problems.
After incurring damage to its cells, the liver has a remarkable ability to regenerate new cells. This recovery only happens when normal cell injuries occur. Pathology in the liver typically causes the rate of liver cell damage to outpace the rate of liver cell regeneration.
Over time, unrepaired liver cell damage can lead to irreversible scarring (cirrhosis of the liver), which primes the organ for liver cancer or liver failure.
On the other hand, increasing liver disease awareness – including cognizance of a vague collection of signs and symptoms of a bad liver – will improve liver disease diagnosis, treatment, and prevention.
What Causes Liver Disease?
Liver disease can be genetic or be caused by a variety of other factors that damages the liver, such as:
A virus like Hepatitis B or Hepatitis C

Alcohol use

Fatty liver

Toxin exposure

Blockage of the liver's bile ducts
6 Common Signs of Liver Damage
The six most common signs of liver disease are seemingly vague, but include:
Strange Colored Elimination – Pale, bloody or tar-colored stool and/or dark colored urine.
Fatigue and General Malaise
Nausea and Low Appetite
Liver Area Pain (upper right hand side of the abdomen) – likely caused by inflammation in the liver.
Fluid Retention and Swelling of the Abdomen and/or Leg and Ankle Swelling – This is due to ascites, which occurs as a result of poor kidney function in cirrhosis (advanced liver disease). A decline in kidney function leads to the retention of sodium and water.
Yellowish Color to the Skin and Eyes (jaundice) – This is caused by a damaged liver being unable to process bilirubin, the waste product that occurs when old red blood cells are broken down.
10 Not-So-Common Signs of Liver Problems
These 10 not-so-common signs of liver issues are not early signs of liver damage. They typically develop once liver disease has progressed: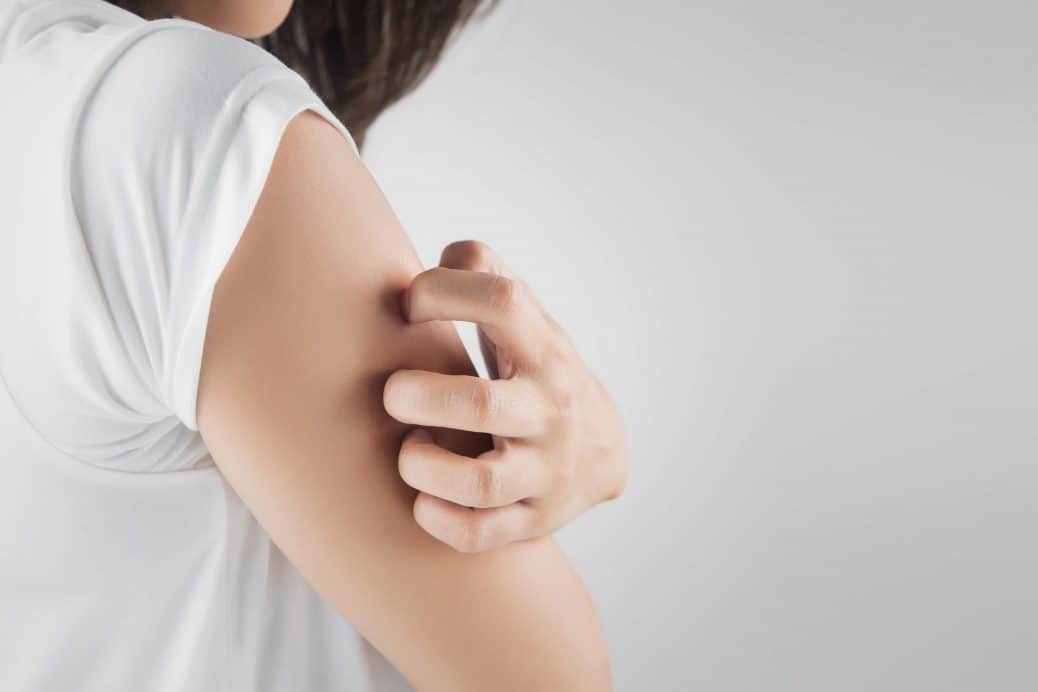 Foul Breath and/or Body Smell
Developing New Allergies
Itchy Skin – This may be caused by a chemical in bile that accumulates in the bloodstream when the liver is damaged.
Developing Spider Angiomas – Small, spider-like capillaries that are visible just underneath the surface of the skin.
Gynecomastia – Enlarged male breasts. A damaged liver may fail to regulate the production and breakdown of hormones.
Shrunken Testicles or Erectile Dysfunction – A damaged liver may fail to regulate the production and breakdown of hormones.
Dark Circles Under the Eyes and/or Blemishes on the Skin
Confusion or Short-Term Memory Loss – As toxins accumulate in the brain because the liver can no longer effectively eliminate them, brain activity is hampered.
Vomiting Blood – Scarring of the liver prevents proper blood flow through the organ, increasing the likelihood of pressure building up in the stomach and esophageal veins. If these veins burst, it can lead to vomiting up blood. This is a medical emergency!
Bruising Easily – Liver damage can prevent production of the proteins required for blood clotting, which causes an increased tendency to bruise or bleed.
The earlier liver disease is diagnosed, the easier it is to reverse it, cure it, or prevent its progression.
Realizing that your cluster of common or not-so-common symptoms of liver issues could foretell of liver disease will help people prioritize their liver's health – and get screened for liver disease to stop a liver-related emergency from ever coming to fruition.